Friday 23rd April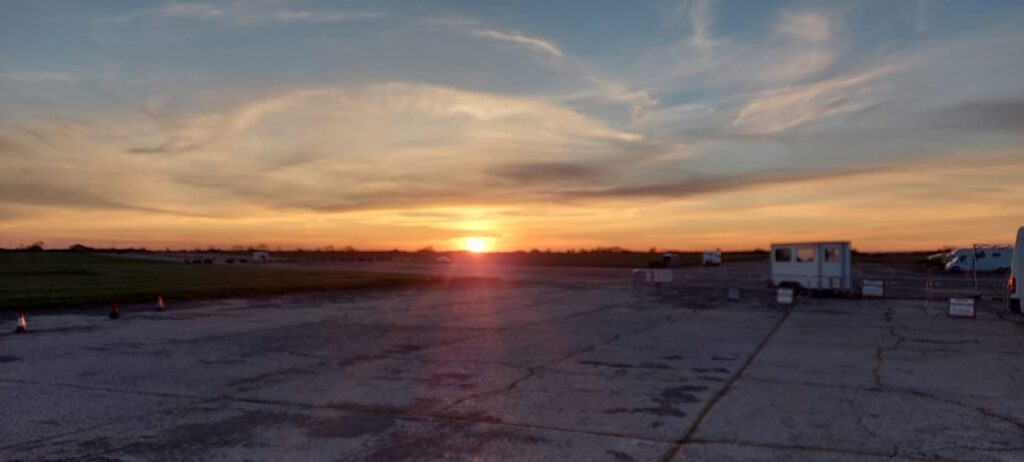 We are at Smeatharpe (Dakota Raceway) as the sun sets on a beautiful day. Tomorrow will see us finally testing all the engine work done over the last few weeks. Weather forecast is good and hopefully there will be good times and good times.
Saturday 24th April
The expression on my face today when I did the first, full throttle timed run. And that's WITHOUT the nitrous…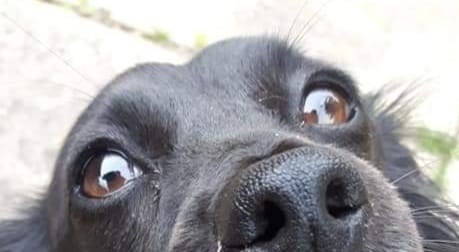 Today was a good day!
It started last night (Friday) when I arrived at Dakota Raceway (Smeatharpe) and set up camp. I was invited to eat with some of the other riders who were indulging in a BBQ and after two beef burgers and a lamb … uh … something which was very tasty, I retired to the new caravan, Duckingham Palace to catch up on some Z's. Despite it being pretty damn cold over night, I slept warm and toasty until 5am when my body decided it had had enough sleep and wanted to get up. My mind had other ideas and they fought for an hour until I took charge and removed myself from the scene. A quick breakfast and cup of tea cooked on the portable gas stove) due to the gas not being connected in the Palace yet) and it was down to business.
The sun was shining but there was a cold wind breezing through the paddock which soon removed any thoughts of tiredness and in short order, signing on was completed, followed rapidly by technical inspection under the scrutiny of myself and Mark Taylor.
And then we waited for kick off. The no-prep car guys did a stint which was good for us as they were laying down rubber on a track which hadn't been used since last year and then it was time to don helmets and get going.
For my part, the first run was quite sedate because of the engine rebuild. I wanted to make sure it was going to hold together before finding out what it was capable of.
So, the day started with a 12.11s@108mph run. Not bad for just 'bedding in' the motor. (Fun fact, this engine which is the one that the Duck first took to the track with 10 years ago did a similar time/speed flat out when normally aspirated.)The format of runs is different at Dakota s this meant I could come back round and carry straight on with a second run. Which I did. And once away from the line, gave it large. It seems that my time didn't register but the pull on that bike was like a runaway train. Solid acceleration all the way up the strip with no fade (as in previous seasons.)Run three gave and 11.48s@126.58mph which included a very jumpy launch.
Run four saw a better launch and returned 10.73s@125.65mph.Run five saw a 10.62s@129.48mph. This was the highest speed of the day.
Run six saw a 12s run due to fluffing the gearshift as did run seven (11s). he next four runs saw 10.89s@124.58mph, 10.67s@125.60mph , 10.67s@127.49mph (unfortunately I red lit on that one) and a final run of the day saw the best time of10.45s@125.30mph. That last one was a corker. The launch was good as the modified clutch had finally bedded in and was allowing me to slip it off the line, the gear changes were smooth and positive (which shows that the mods done to the gearbox are working) and it accelerated faster than a dog that just spotted a squirrel!
By this time, the engine was beginning to show signs of heat sink so it was time to call it a day. Overall, it was a successful day. A low/mid 10 on the first outing without nitrous is a good result, especially into a substantial head wind . The sun shone all day and by the afternoon the wind had pretty much gone from the paddock, turning it into a suntrap.
The downsides were, I have a coolant leak which coated my new left boot. I had the supercharger drive pulley shaft seal fail and chuck hot engine oil all over my new right boot (and the side of the bike) and … that's about it really. I did have a nasty sideways spat on one of the afternoon runs but hopefully there will be a good picture of it to compensate. So, all in all, today was a good day!
Sunday 25th April
Looking resplendent at the end of a tough but satisfying day at Smeatharpe. I forgot to mention yesterday that we also took the class win.
So, following on from yesterday where I mentioned the supercharger drive pulley shaft seal had failed, this is what I pulled out today. It was brand new when it went in…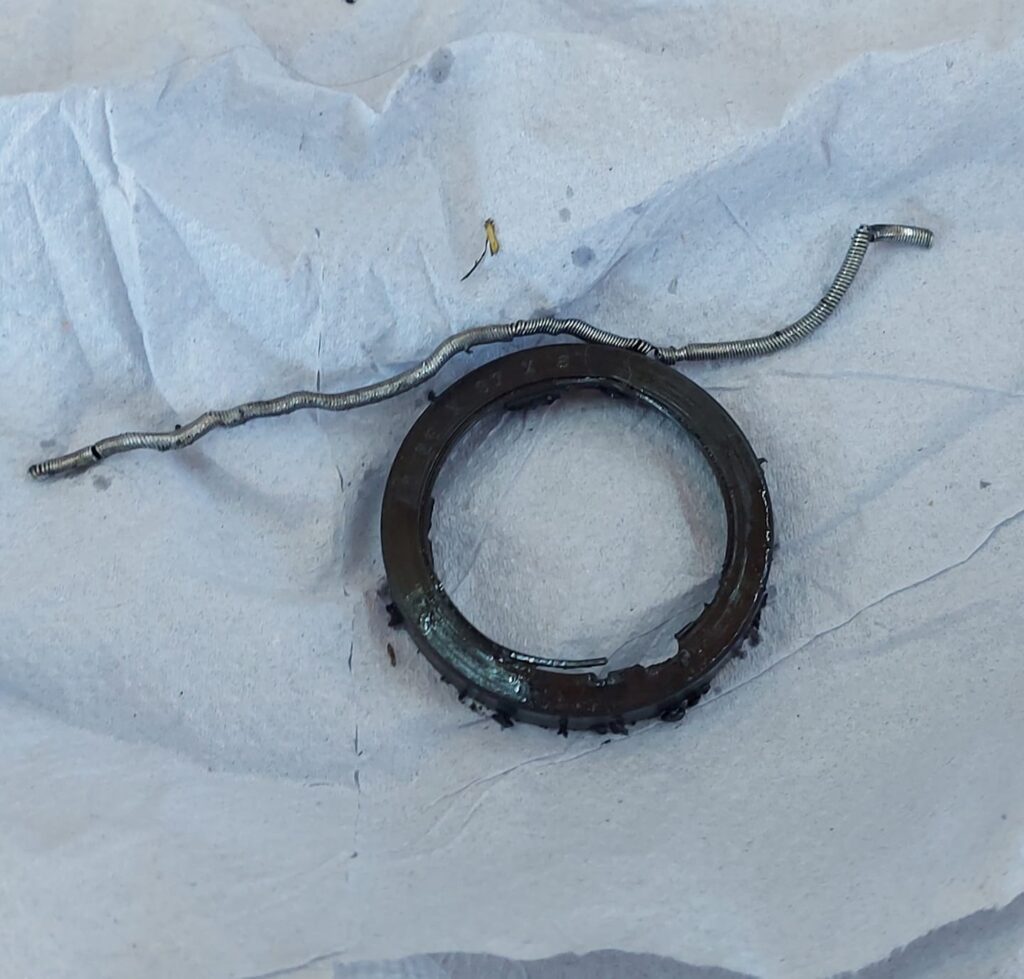 I have just found out that as well as winning my class on Saturday, I also became a record holder in that class because the start and finish line had been moved from its previous location which technically makes it a new track. Well chuffed about that (for as long as it lasts).